Democratizing Alternative Investments By Empowering Wealth Managers
Simon Wong
Historically, high-performing alternative investments were the privileged domain of ultra-high-net-worth individuals (UHNWI) and large institutional investors. To provide some context, pension funds and significant endowment trusts wielding trillions in assets earmark over a quarter of their portfolios for alternative investments. By contrast, individual wealth portfolios are far behind, typically allocating less than 5% to this asset class.  We call this a Wealth-Allocation Gap.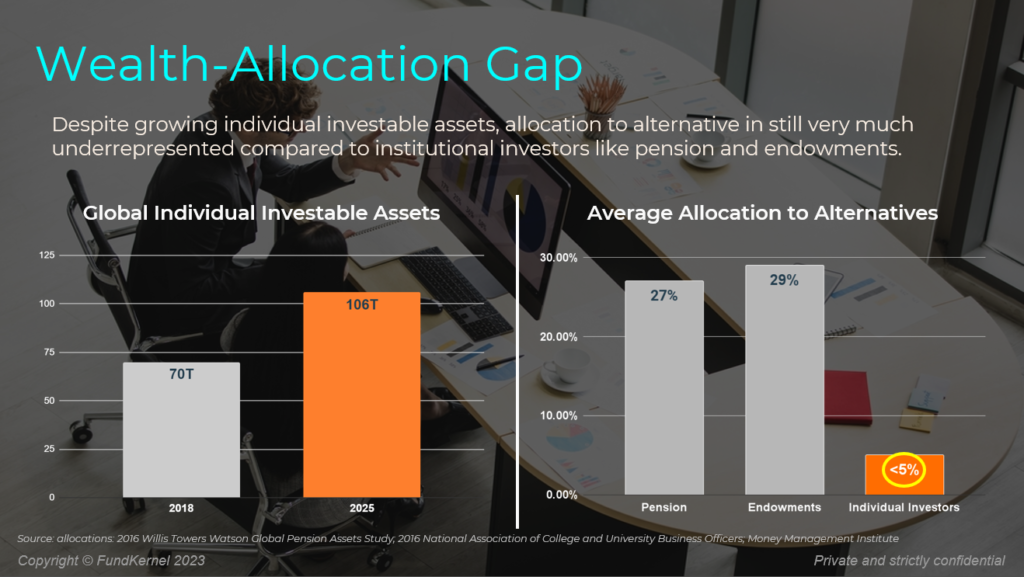 The reason for this disparity? A glaring lack of resources and support for individual wealth managers. These professionals are entrusted with the crucial role of assessing, selecting, and adeptly positioning alternatives for their clients.
Recent times have seen fintech companies making concerted efforts to democratize alternative investments. Unfortunately, the majority employ a B2C approach, which harbors inherent risks for individual investors given the intricate nature of alternative assets. These complex assets can easily bewilder the average individual investor, emphasizing the irreplaceable value of professional advice.
Harnessing Technology to Bridge the Gap

One of the key ways to democratize alternative investments lies in using technology to empower these individual wealth managers. For instance, big data and machine learning can transform the daunting task of due diligence and selection. These technologies have largely solved one of wealth managers' greatest challenges by enabling highly comprehensive evaluations of thousands of funds within minutes.
Another issue for individual investors is active performance monitoring. Wealth managers obviously are hesitant to recommend funds to their clients that they do not have reasonable confidence in. Especially when the recommended investment starts trending toward the negative, the revenue and reputational hit can be detrimental to the wealth advisors.  Without tools that offer timely insights and alerts, a manager's ability to advise will come under scrutiny, leading to delayed decision making. However, technologies that can dynamically and quickly monitor fund quality arm wealth managers with the power to make proactive decisions, helping clients swiftly reallocate assets and ensuring sustained revenues.
Lower investment risks through lower investment minimums and automating operation
Investing in alternative investments typically come with a set of barriers for individual investors. One of the most prominent is the expectation of high investment minimums. This is of particular concern since the performance of alternatives hinges predominantly on the fund manager's skill. In scenarios with elevated minimums, a single misstep by the manager can lead to substantial losses.
It's in addressing challenges like these that platforms such as FundKernel shine. Allowing wealth managers to enter at more modest minimums opens up avenues to maximize potential gains while containing possible downsides.
Wealth managers are also no strangers to the operational hurdles surrounding alternative investments. The administrative burdens, such as piles of documentation, non-standardized subscription forms, and other manual processes, inevitably erode operational efficiency. Leveraging technology to streamline these processes is more than just a convenience; it's a necessity. Digital solutions, ranging from paperless order processing to advanced investor relations tools, significantly ease these operational challenges, thereby preserving the profitability of wealth managers.
FundKernel's Value Propositions
Democratizing alternative investments isn't merely about broadening access. It's about equipping those at the forefront, the wealth managers, with the tools and resources they need. With optimized fee structures, the benefits are twofold, benefiting both the wealth managers and their clientele.
Alternative investments are undergoing significant changes. In order for wealth managers to best serve their clients, they must focus on empowerment and aim for a more inclusive and promising investment future.
At FundKernel, we believe in the power of informed decisions. Our platform melds technology with expertise, offering clarity, precision, and unwavering support in alternative investments.
Connect with us today, and discover the unparalleled advantages of partnering with FundKernel. Together, we can redefine your investment strategy and pave the way for a prosperous financial future.
Simon Wong is the co-founder and COO of FundKernel Limited and has implemented multiple Fintech projects over his 20+ years career. Prior to FundKernel, Simon was the Regional Manager for ERI Banking System and had held senior roles with numerous Fintech/Wealthtech companies including AGDelta and SuperDerivatives.